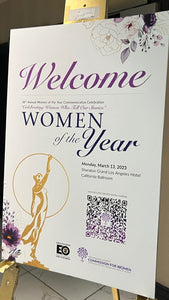 (Watch at minute 1:15.00) What an honor it is for me to be recognized as Woman of the Year by  Los Angeles County Supervisor Hilda Solis.  I am dee...
"The most important investment of our time is in our community and our youth"
"The most important investment of our time is in our community and our youth"
My participation in the all Latina Goddess Mercado was very empowering for a young girl like me. Everyone was so sweet and made me feel welcomed. Honestly, I didn't expect that! I now feel incredibly fortunate to be a young Latina from this neighborhood. As a new businesswoman I felt like I had a lot of support at this new market. Seeing so many boss Latina women doing their thing really made me feel like I belong to this community. I feel that as Latina entrepreneurs we face similar barriers and struggles.  It felt good to know I was around relatable women that I could share experiences with . I am happy that I am now part of this community!
I am a student and reside in Boyle Heights. I started my business last august to help distract myself from all the crazy things going on in the world. Then I found my love for baking and making sweets by exploring other things I could make to help grow my business. My educational goal is to become a child psychologist and help children through emotional barriers and trauma so that they can succeed in school and life.  Thank you for supporting me at our next #thegoddessmercado!
Jenni Sierra- I am the owner and creator of @sweets.by.jennyy Please follow me and support me by placing your next sweet order with me or visiting my booth at our monthly all Latina  @Thegoddessmercado.
@Thegoddessmercado at 1426 Maple Ave in DTLA
In efforts to support and encourage Latina entrepeneurialship and empowerment in our community, 323MARKET has agreed to sponsor participation of Latina high school students at our monthly events.  We are accepting applications for one free vendor spot at our monthly market. Must be a Latina high school student that is creating their own artwork or product at home.  
Please apply only in person at our next monthly market. See Diana at @mexichiccrafts booth.
"Mujeres unidas nunca seran vencidas"
"Confidence comes from not always being right but not fearing to be wrong!"
wrong!"
  Yes, I am loyal to my Tapatio sauce because he was my first sauce-Zas! Tapatio is affordable, goes a long way and comes easy.  Sometimes, however I don't want easy!  I want hard, and prefer to be challenged, feel wild, fearless, and strong.  A good hard Chile does it for me!  How awesome is to bite a hard one and have that sensation of that eternal hell in your mouth? "Que no?!" A Chile so hot that its steam gushes out along with your tears and snot and…
…you know?
I know! That's crazy right?  But that's the way I was raised.  This is the way I was loved.  "Con mucho Chile" My dad once ate around 80 jalapenos just because it was a cheap way to entertain me and my siblings.   "Quieren que coma otro?" he would ask, and we would jump up and down, clapping, cheering, and scream "Siiiiiiii…"  I remember him chewing and sweating as we all chanted "otro, otro, otro…" Pobresa inspired creative Chile improvisation. You can imagine my poor dad that day after?! 
So I'm looking for a good Chile, and I'll tell you all about that later! 


Subscribe to receive updates!

Photography: Crystal Lopez @eyesonupphotography
Creative Direction: Diana Diaz  
Dog: Chilito Chihuahua