"The First Chicana Luxury Leather Designer from East Los Angeles"
Diana Diaz was born and raised in East Los Angeles, and she is the daughter of Mexican immigrants that introduced her to the world of street vending and apparel construction. These intersectionalities inspired her to create Mexichic Crafts, the first luxury leather brand from East Los Angeles. This fashionista activista pays homage to her cultura with exclusive and colorful designs that inspire love and alegria. 
Diana is also founder and creator of The Goddess Mercado, The Queer Mercado, and The Goddess Mercado Boutique Nonprofit Collective. It's mission is to create safe market spaces for youth to express themselves creatively, gain lucratively, and with the support of the local community and schools.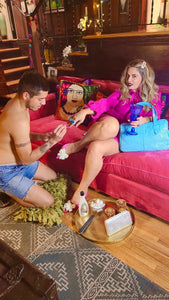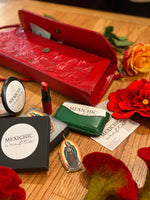 HAND CRAFTED LUXURY LEATHER
This imperfectly perfect leather is exquisitely tooled, and crafted into beautiful pieces of wearable art.  The tooling craft is a blend of indigenous and European etching techniques and designs.  Various flowers and intricate ivy are etched into recycled and treated leather, creating handbags inspired by places where many Mexican women live and love.
Shipping Wednesdays and Saturdays only!